I didn't post anything over the weekend...I figured everyone was off hunting eggs or something. I spent a nice quiet day alone...well after I got home from work anyway, and just worked on some sketches for some possible upcoming stationary sets.
I just wanted to take a few moments to share some of my most recent thrift store finds...I was really tickled when I found this shelf...it was just a plain, unfinished wood and rather dirty. But it was only $3 so I took it home. It's been sitting on my bedroom floor for about 3 months now. I finally went and bought a can of red spray paint today and gave it a coat. It's not quite done yet.
I went a local shop this afternoon after dropping my car off to get some work and i found these 3 awesome frames and this cute little bear. The guy sold it all to me for $1! I couldn't believe it. I almost felt bad and wanted to give him more but he said he was clearing house for spring. So...YAY for me! Lynus decided he wanted to inspect the new additions as well...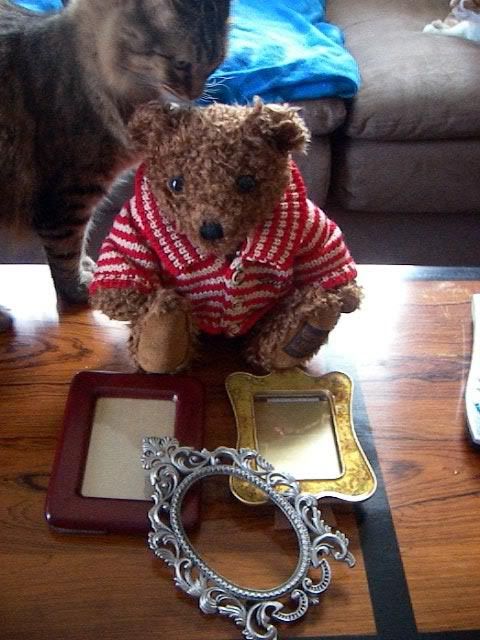 The top one here was actually just a greeting card that I really liked so I cut out some fabric and placed it behind and found a frame in my closet that was taking up space. The bottom pic I found at yet another thrift store across the street from the one with the bear. I couldn't leave it sitting there...it even still has the original writing on the back "To Billy, With Love December 22, 1957" Someone's old christmas gift long forgotten until now. I also got a swell green checkered apron and an old Norman Rockwell tin that day.
I found this little picture at another place just up the road. It was laying in a pile of junk and covered in dust and i thought it was just adorable.
All and all some really awesome finds.
(on a side note...i just had a bite of the fried chicken Pat is cooking on the stove at the moment....Oh dear....wish you could have some too...it's SO GOOD!)